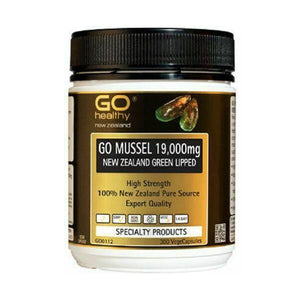 Go Healthy GO Mussel NZ Green Lipped Mussel 19,000 300 Capsules HIGH STRENGTH
Go Healthy GO Mussel 19,000 Provides High Strength Joint and Cartilage Health
Go Healthy GO Mussel 19,000 Promotes Cartilage Health, Healthy Bones, Joint Health and Mobility
Go Healthy GO Mussel 19,000 contains only 100% pure New Zealand Green Lipped Mussel powder. It is well known to support joint and cartilage health as well as joint mobility. Naturally occurring marine lipids and Chondroitin make mussel powder an excellent supplement of choice by many people around the world.
VegeCap Advantage: The VegeCaps used are made from Non GMO vegetable cellulose and are 100% free from animal products. VegeCaps are easily digested once swallowed, giving optimum absorption of ingredients. No added yeats, corn, wheat gluten, artificial flavours or preservatives. 
Directions: Adults: Take 1 VegeCapsule daily. Capsules can be swallowed or pulled apart and contents sprinkled into food. Best taken with food.
Ingredients: Each capsule contains:
Green Lipped Mussel(equiv to fresh) - 19,000mg
Tested for heavy metals to ensure purity
No added yeats, corn, wheat gluten, artificial flavours or preservatives
---
We Also Recommend