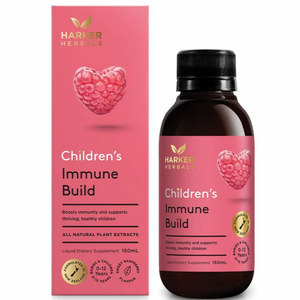 Harker Herbals Childrens Immune Build 150ml
General Information
Boosts and builds strong immunity and supports increased energy in little ones struggling to thrive. Great for every day use to support long term recovery. Suitable for babies and children to 12 years.
Warnings
Do not exceed stated dose.
Keep out of reach of children.
If taking prescribed medication, we recommend seeking professional medical advice before taking our products.
Always read the label and use only as directed.
Take extra care when using on infants under 2 years as serious illness may develop quickly.
Common Uses
Supports strong immunity and healthy energy
Useful everyday support for those prone to repeat illness, low energy and feeling rundown
Useful added support when recovering from illness.
Useful everyday support for very active children.
Nourishes overworked adrenals, supports healthy appetite and optimal absorption of vitamins and minerals from food.
Useful everyday support for picky eaters, fragile constitutions and children committed to a busy schedule.
Includes Astragalus, a powerful immune stimulant and traditionally used to enhance and support immune function.
Natural sweet raspberry flavour
Free from gluten, dairy, alcohol and preservatives
Ingredients
Active ingredients
Each 5ml dose contains:
WITHANIA root 1135mg
CODONOPSIS root 585mg
LICORICE root 117mg
ASTRAGALUS root 1135mg
In a base of chicory root fibre, vegetable glycerine, natural flavours, citric acid and water
This low sugar formulation contains less than 0.06g of sugar per 5ml dose.
Directions
Infant 0-1 years: 0.5ml (10 drops)
Children 1-2 years: 3ml (1/2 metric teaspoon)
Children 2-5 years: 4ml (3/4 metric teaspoon)
Children 5 years and over: 7-8ml (1.5 metric teaspoon)
Take recommended dose by age group twice daily to support strong immunity.
Shake well before use.
---
We Also Recommend